Russian customers after the successful cooperation with our company, to visit the company, follow up the equipment production process, the boss personally received and warmly take a photo, and visit the factory other export equipment, once again to the factory strength of affirmation, the company's technical staff and further with the company's technical department to Butt-related details, and for a good cooperation to play a solid foundation.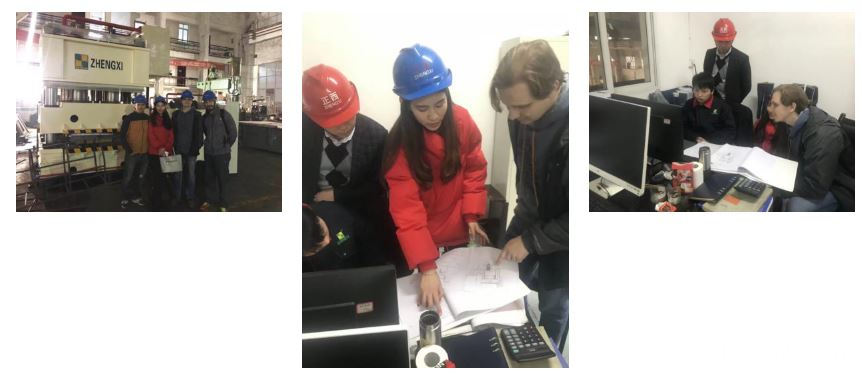 Chengdu ZhengXi Hydraulic Equipment Manufacturing Co. Ltd. is located in the north of Chengdu economic development zone,Is engaged in hydraulic machinery and hydraulic system research and development, manufacturing and sales of professional manufacturers.Company focus on customized non-standard hydraulic equipment and production standards of hydraulic equipment, main products have standard
Four Column Hydraulic Press
, single column hydraulic press, single and double dynamic hydraulic stretching machine, auto parts forming series hydraulic machine, tube pressure machine, special hydraulic machine, cold press, hydraulic system and so on,The single largest tonnage of 10000 tons can do.At the same time, the design and production of non-standard hydraulic equipment for customers. The main features of the company's products are beautiful appearance, simple operation and convenient maintenance.
The company has more than 50 sets of processing equipment, including 5 meters, 2.5 meters, 1.6 meters vertical lathe, heavy vehicles in Japan, Mitsubishi composite boring and milling machine, planer arm, hydraulic shaper and large equipment.
In product quality, we use the national and industry standards, strictly grasp every processing link to ensure the quality of each part. The company continuously introduces, digestion, absorption foreign counterparts advanced equipment technical characteristics of melt in products, leading products Yz32 series four pillar hydraulic machine and Yz41 series single column hydraulic machine and anti-theft door embossing machine has been in the same industry in the leading position and best-selling home and abroad, welcomed by the majority of customers.

Companies adhering to the quality first, customer first purpose to provide customers with high quality equipment and services, and provide a full range of technical support. On the basis of equality and mutual benefit and common development, create success.
The company has passed ISO9001 quality management system certification, the registered capital of 10 million. "Quality first, honesty" is our commitment to customers! Customer satisfaction is our eternal pursuit.